Benjamin Franklin said there are only 2 things that we're certain of in life, one is that we have to pay taxes, and the other is that we will die one day.
Most of us were dreamers when we were younger. We knew exactly who we wanted to become, we would imagine and visualize the home that we wanted to live in, the family that we wanted to have, the lifestyle that we wanted to live, the special things we wanted to be able to do for our families, the vacations that we wanted to experience, and much much more!
But school happened, and people started to tell us what we could and couldn't do or have, that we should stop daydreaming, or that what we were dreaming about was way out of our league, so we should wake up and stop deluding ourselves.
Over time, we stopped dreaming and we stopped putting our imagination to task. Then we allow the people around us to define who we are and what we will become.
Einstein says, If you want your children to be intelligent, read them fairy tales. And if you want them to be even more intelligent, read them more fairy tales.
Why?
Because fairy tales give children a wonderful unlimited imagination and imagination is more powerful than knowledge!
Einstein went on to say "the true sign of intelligence is not knowledge, but imagination!"
I believe it was Dr. Wayne Dyer who said, "While knowledge will earn you a living, imagination can make you rich beyond your wildest dreams!"
Raise your hands if you're living your dream life now. And keep your hands raised if you're one of the lucky ones who was allowed to dream your way throughout your life and thus manifest the things that you dreamed about.
While most of us may not have been the lucky few who were allowed to put our imagination to task and keep dreaming big, most of us could still live at least a greater fraction of our dream life if we build a Strong Financial House.
If we design our financial house as shown in the diagram below, we will have peace of mind and live a better lifestyle knowing the following:
I have emergency funds to cover unexpected expenses
My family is covered if I get critically ill and can't work
I can stay home and take care of my family member if one of them get critically ill
My family will be cared for if I become an angel unexpectedly
I have investments to live a good lifestyle during my retirement years
I have investments to pay for my children's tuition so they don't have student loans after college
I have funds to do special things for my family and loved ones
I have funds to go on wonderful vacations
I have funds to contribute to my charities and give back to my community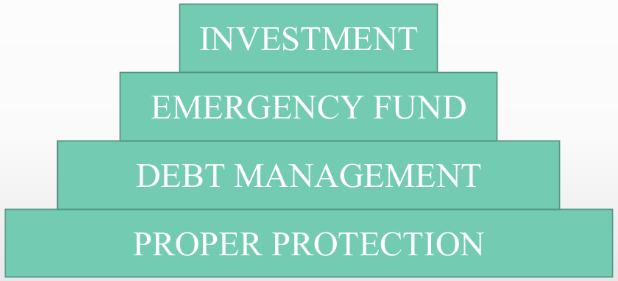 The initial design of my financial house was like the diagram shown below, but without "Proper Protection."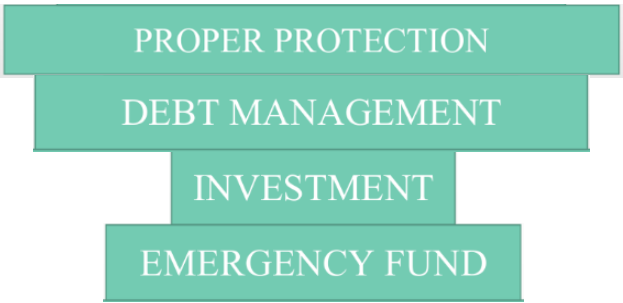 Even though I had added some protection many years after, solely because an insurance advisor had asked if my boys would be taken care of if the unexpected should occur, I didn't have enough insurance to secure the lifestyle that I wanted my family to enjoy should the unexpected occur. Moreover, I'd just picked a number out of the hat for my life insurance coverage, and I didn't have any critical illness coverage.
As I learned more about the importance of having a strong financial foundation, and that I could easily calculate the amount of coverage that I needed using the DIME method:
D=Debt
I=Income Replacement
M= Mortgage,
E=Education Funds for kids
I put the necessary things in place to ensure that my financial house is designed according to the first diagram, and my insurance coverage is more than the total of (Debt + Mortgage + Income replacement+ Education Funds) plus the amount to cover my final expenses and probate fees.
Today I have way more peace of mind that my family will be okay. In addition to this, I can travel more, I can do more special things for my loved ones, I can contribute more to my charities, and I can give back to my community and my mother country without feeling afraid that there will not be enough resources left over for my family.
And while I'm not fully living my ultimate dream life just yet, since I still have a day job and my baby is still in university, 😁 I have certainly realized some of my wonderful dreams. And I continue to leverage my imagination to propel me to higher heights to keep checking off my dream list!
I do hope that you're well on your way to achieving your dream life. And if you're not, it's not too late to put the right financial foundation in place to start checking off your dream list!
Even if there's not enough time to accomplish all….accomplishing even a fraction of them will certainly be worth it!
Plus the BEST part is, at the end of your life you would definitely be able to say, Despite the nay-sayers, I have absolutely lived out some of my dreams!!😂